I have just called for reinforcements and here they are: the new contributors/authors on the site who will keep you all updated on all things Bronson are my two good friends and BP fans Renee Katruska and Lisa D'Angelo!
Welcome, girls, I'm sure you will do a fabulous job!
PS: In case it's not clear, I'm not leaving the site, we are just joining forces. 😉
Here we are again, 2013 flew right by, didn't it?
Our Christmas tradition continues here on BP Online, with our mega post made of special greetings sent by fans.
And here they are:
From Lois:

---
From Tanya:
Dear Bronson Pinchot: I just want to say I hope u have a very Merry Christmas & a happy, healthy & prosperous New year! I tape & watch your show on the D.I.Y. Network. I absolutely adore you & your many workers on the show. You are funny but also enlightening in the way u teach us all the proper terminology that's used in architecture & design. I must say I do love the interaction between u & Mikey. My son's name is Mike. He has seen your show & likes it too, but not as much as I do!
So please, Mr. Bronson, have a special holiday season. Take care & I picture u in your little elf house, in a onesie, reading Dickens & having a brandy to stay warm, just like me! Tee-hee! Peace & Love,
Tanya Jenkins 😉
---
From Missy: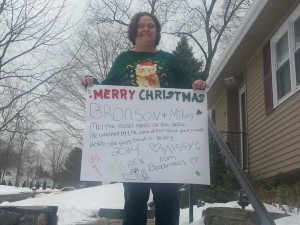 ---
From Sel: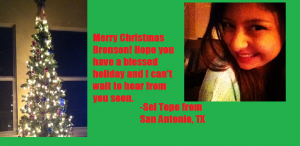 ---
From Kristen-Lee:

I haven't been able to prepare anything special this year, but to all of you out there who helped keep BP Online alive for 4 years, my most sincere THANK YOU!
Have a lovely Christmas and a very special New Year, everybody!
Hello all! That especial time of year is here again and it's not only BP Online's 4th anniversary, it's Christmas as well! 🙂
As we've done for the last couple of years, there will be a super mega Christmas post published on the 24th with greetings sent by you! If you'd like to send in your Christmas greeting, send it to contact@bronsonpinchot.org and it will be part of our mega Xmas post!
Text, pictures, drawings, poems, videos, it's all allowed.
See you on the 24th!
In case you missed an episode or just want to watch them again, tune in to DIY tomorrow, June 3rd to catch the Bronson Pinchot Project Marathon! All the 16 episodes of the season will be shown, starting at 1:00 pm and ending at 9:00 pm EST.
If you're on Facebook, share and invite your FB friends to watch the marathon with us!
Happy viewing!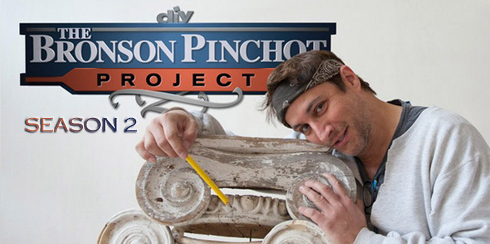 It's that time of the year again!
Bronson is turning 54 today and we are celebrating at our Facebook page! If you'd like to wish him a happy birthday, go to www.facebook.com/bpinchotonline and leave a message, or leave a comment below!

Yes! The Bronson Pinchot Project's first two seasons were so popular that a brand new series is being produced by the DIY Network, Bronson Pinchot Saves America!
The new show is being shot now and is set to premiere in 2014.
From the DIY press release:
Bronson Pinchot, Hollywood's favorite character actor and salvage and renovation expert, also gets a new 2014 spin-off. In Bronson Pinchot Saves America, Pinchot and Mikey, his trusted sidekick from DIY Network's The Bronson Pinchot Project, scavenge their way through the U.S. to rescue previous artifacts from demolition.
Check our Facebook page for the latest news on the show!
This happened a while ago and was widely commented on our Facebook page, but it's too much fun not to share with all of you who might not have seen it yet!
Bronson and Butch Patrick (who played Eddie Munster on the Munsters) appeared at the Fox 43 News program to promote the American Music and Pop Culture Expo in Hershey and, well, you must see it for yourself. Enjoy!

http://www.youtube.com/watch?v=_bfYhHDxfuI
First of all, I would like to thank everyone who have sent messages and comments supporting the Bronson Pinchot Project for the past year, your messages have been read and immensely appreciated by us!
Now DIY and HGTV, the two networks which are responsible for producing the Bronson Pinchot Project would love to hear what you have to say about the show! Go to DIY and HGTV's Facebook pages and let them know you want more BPP!
DIY's Facebook Page: https://www.facebook.com/DIYNetwork
HGTV's Facebook Page: https://www.facebook.com/HGTV
Fans will be able to meet Bronson this upcoming March at The American Music & Pop Culture Expo in Hershey, PA! Bronson will be one of the special guests at the convention, which will take place at the Granada Avenue Gymnasium on March 29th and 30th.
For more info, check out the convention's official page: http://www.usatheatres.com/conventions/