We get a lot of questions regarding BP's audiobooks.  What better way to celebrate, eh?  You can find all 130+ at audible.com — quite a few new ones too! 🙂  Perhaps you're on the fence?  Here are a few nibbles:
SoundCloud Ultimate Error: The track you specified in the shortcode does not exist in your account.
We've also posted the Jennifer Roberson interview with Bronson here.
And for those of you who dabble in voicework, BP will be teaching classes at the Deyan Institute in LA.  All the deets on future workshops here.
Our favorite Taurini is 55 today!  If you want to send BP birthday wishes you can stop by our Facebook page, hit him up on his Twitter or shoot him an email at salvage4bronson@gmail.com.
Salute! 😀
…aaaannndd we're back. 🙂
A bit from Wikipedia about the show:
Amazing Stories is a fantasy, horror, and science fiction television anthology series created by Steven Spielberg. It ran on NBC from 1985 to 1987.  The series was nominated for 12 Emmy Awards and won five.  It was not a ratings hit (ranking 40th in Season 1 and 46th in Season 2), however, and the network did not renew it after the two-year contract expired. The 1987 science fiction movie, *batteries not included was originally intended to be featured in Amazing Stories, but Steven Spielberg liked the idea so much that he decided to make it a theatrical release.
Bronson played a movie director in the October 27, 1985 episode titled "Mummy, Daddy"
An actor (Tom Harrison) dressed as a mummy races from location-filming of a horror movie through a primeval Southern swamp to reach his wife, who is about to give birth. But the locals believe in the eerie legend of Ra Amin Ka, and when they encounter the panicked, bandaged performer, they are positive he is the real deal.
FUN TRIVIA:  Danny Elfman wrote the musical score for this episode!  And the chapter is reportedly inspired by a real life event that happened when a fully costumed Boris Karloff as the Frankenstein monster traveled to the hospital where he had just become a father. 😀
You can purchase Amazing Stories: The Complete First Season at Amazon.com
Courtesy of Vince Mancini @filmdrunk
Bronson Pinchot chooses his pick for best hair at brunch #TrueRomanceFest
Q & A with "True Romance" star Bronson Pinchot
Fox Beat:  Geeking Out at True Romance Fest
First 'True Romance' festival in Burbank proves that love never dies
JoBlo spends the weekend at True Romance Fest
..and Jimmy O from JoBlo.com's interview with Bronson:

..the fun continues!  BEAUTY!  Listen to The Todd Shapiro Show on Sirius XM channel 168 (Canada Laughs) weekdays at 9AM Eastern.  Also, the True Romance Fest continues TONIGHT at The Safari Inn in Burbank!
P.S.  No potato pancakes were harmed during editing and airing of this interview.  Well, maybe one. 😉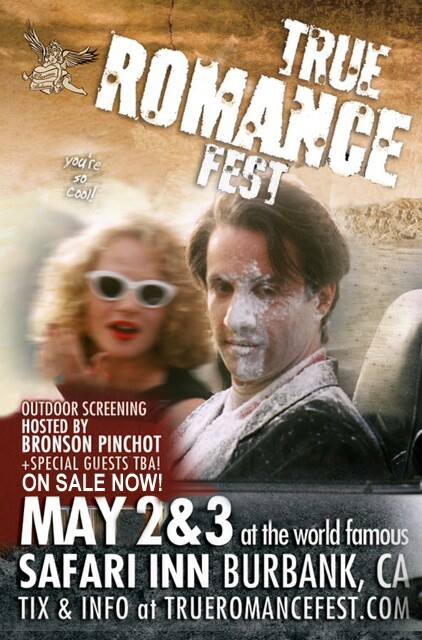 If you're in SoCal this weekend, you should probably do this.  Why wouldn't ya? 😉  All of the awesome info is on the True Romance Fest website.
From their Facebook page:
"I gave Bronson some light reading before bedtime to help promote Patricia Arquette's charity, givelove.org. He thinks you should bid for a "Date with Patricia Arquette" … it's for a good cause! Check it out here and join us at the True Romance Fest this weekend!"

Great stuff from BP!  You can catch the Todd Shapiro Show on SiriusXM channel 168 weekdays at 9AM Eastern.  We'll post part two soon! 😀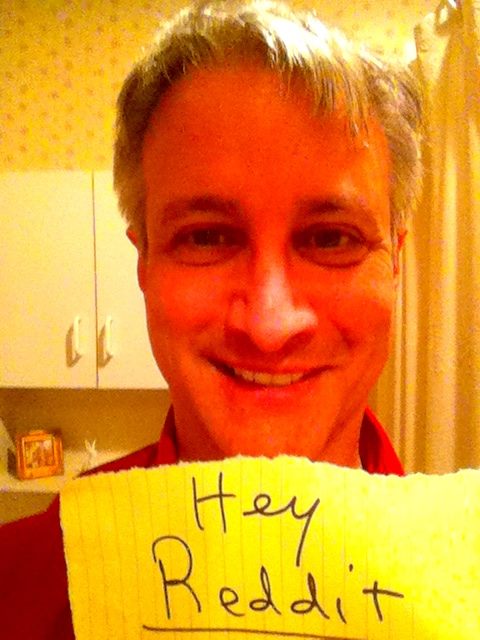 Head over to Reddit TODAY around 5PM Eastern/2PM Pacific for another round of hilarity!  This is BP's third AMA — hit up Reddit's search function and you can find the other two.  He'll be taking your questions and talking about the True Romance Fest May 2nd and 3rd in Burbank, CA.  It's always a blast! 😀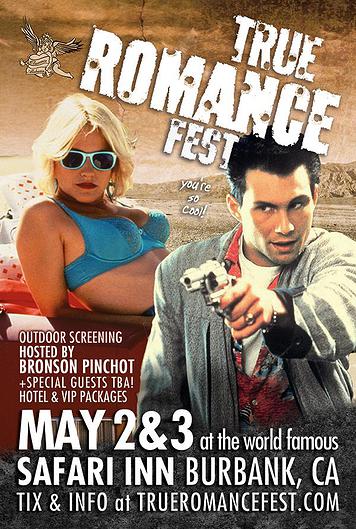 FINALLY!  Individual "screening only" tickets on sale March 24 at 10 am PDT at the True Romance Fest website.  They start at 35 bucks.  There are still a few VIP hotel packages available (Breakfast with Bronson, anyone? 😉 ) It's gonna be a blast!
Now, what are these you ask?  The Audies are awards recognizing distinction in audiobooks and spoken word entertainment sponsored by the Audio Publishers Association.  BP is up for the narration of "Warbound" by Larry Correia.  Snippet?   Don't mind if I do…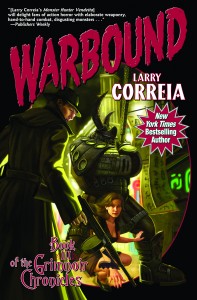 If that didn't give you chills…well, I'm sorry to report that you're dead. 😉  The Audies will be held in NYC on May 29th.  You can always check out audible.com for the mellifluous tones of Bronnie P.
Also, take a peek at author Larry Correia's blog and the Audies website for more info.