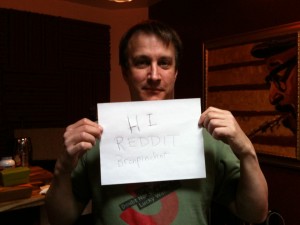 This just in: Bronson is answering the biggest Q&A in history on Reddit.com's AMA (Ask Me Anything)!
He has answered over a hundred questions so far, so if you'd like to read what's been answered already, go here: Bronson's AMA.
Yes, we have Q&A's! And this is a special one, it's The Bronson Pinchot Project Q&A! Bronson has answered 10 of your questions about the new show, check them out below!

Q&A's 02/13/12

Q: Many major cities have many very run-down old-houses, and people would probably do the Dance of Joy if someone at all famous came in to renovate them. Will you be renovating any houses anywhere other than PA?
A: Of course! We just need to know where they are….with photos.

Q: Did your interest in renovation have anything to do with inspiring the idea for the Perfect Strangers episode, "This Old House," in which Larry and Balki take up house-flipping?
A: Not even remotely, though it's an intriguing idea.

Q: I absolutely love the folly (the little building with the blue roof) in your garden and was wondering if it was there when you bought the house or if you had it brought in from somewhere else.
A: It was salvaged from the top of a school in New Jersey. I brought it here and had a crane lift it into the garden.

Q: I loved the first episode of your new show and I saw that you had a beautiful car. Is it yours and are you also partial to old cars?
A: I'm extremely partial to old cars; sadly the car belongs to my little brother Justin and he can't understand that I should just be given it. Perhaps you'd like to start a petition?

Q: Do you have a favorite part/room out of all the buildings you have worked on? If so, which is it?
A: Soooo hard to pick. Each one is my baby while I'm working on it.

Q: What was the most amazing thing you ever found in a salvage yard?
A: Ah, too many to list.

Q: We loved Mikey and C.J.! How and when did you first meet them?
A: Mikey showed up to move heavy stuff ten years ago and never left. How could I possibly let him go? He and I are best friends and we see each other every morning for coffee (quadruple-strength espresso, very sweet). CJ came on as a painter/handyman years ago and has also never left. Yesterday he came through a cancer operation with flying colors….after having survived esophageal cancer last year! He is a hero!!

Q: Hypothetical question: if you had a choice between going back in time and living in one of your homes when it was brand new, or living in it now, after you've restored it, which would you choose?
A: I never ever look back.

Q: If your neighbours, after watching the show, wanted you to restore their homes, would you consider it?
A: Yes, of course.

Q: If you could pick another name for the new show, which would it be?
A: Can't think of a better one, frankly.

Don't forget to send in your questions for the next Q&A!
Here are the November Q&A's, just when you thought they weren't coming! 🙂
Out of all the many cool questions we received this past month, here are 10 of the best! Enjoy and Happy Thanksgiving!

Q&A's 11/24/11

Q: What's your favorite movie that YOU have starred in?
A: True Romance is the best film I have been in, though i suppose it's debatable whether or not I 'starred' in it.

Q: If asked would you consider reprising your role as Serge if they consider making a Beverly Hills Cop 4 ?
A: Yes.

Q: What kind of junkfood do you like?
A: SReese's peanut butter cups.

Q: Do you keep in touch with any of The Surreal Life cast?
A: I was in touch for a bit with Caprice and Omarossa. Caprice was awfully sweet and kind. Omarossa is a smart cookie. I wish we had been left alone to actually be "real." It was so concocted and toxic that the memory of it makes me nauseous.

Q: Who are your favorite classical music composers, Renaissance and Classical artists?
A: Well often I will rock out to Von Biber. Mozart is a god, of course. Purcell has his moments. Thomas Tallis.

Q: Why don't you like to watch yourself on screen?
A: I don't want to get an idea in my head of what I do that's 'good' and repeat it. Just being in the moment is what I want, and watching oneself harms that, I feel.

Q: When visiting foreign countries, what have been the most exotic foods you have eaten?
A: Barbecued beef intestines in Greece. It's called kokoretsi.

Q: What do you like to drink?
A: Arnold Palmer half and half; home-made lemonade; really good cognac; Jameson's whiskey.

Q: Do you enjoy cooking?
A: Lord, no.
Q: If so, what is your specialty?
A: Watching.

Q: Do you have nieces and nephews?
A: Yes. My favorite one looks exactly like an elf.

Send your questions for the next Q&A's to contact@bronsonpinchot.org!
Yay, October Q&A's! Can you believe we're in October already? 🙂
Here are Bronson's answers to questions sent by you throughout September! Enjoy and send us your questions for the next one!

Q&A's 10/07/11

Q: Do you ever see your old castmates from Perfect Strangers?
A: I am in touch with Melanie and Mark and we have a million laughs.

Q: I loved you in True Romance, did you like going on the rollercoaster? It looked fun!
A: I fear and loathe rollercoasters and at the end when I am dry-heaving and whimpering that is not acting.

Q: What did you do over the summer?
A: Shot a TV pilot and then obsessed about whether it would be picked up. It was.
(Webmaster's note: Yay!!)

Q: Do you get to see your mom or your siblings often?
A: Very, very often.

Q: Have you watched any Charlie Chaplin movies and if so, what if your favourite?
A: I've seen them all, as I was briefly in the running to play him in the biopic from many years ago. I love The Gold Rush and The Kid.

Q: Can you tell us how you came to have the scar that is sometimes visible on your arm? It's seen in certain episodes of Perfect Strangers and more noticeable in a photo from Second Sight.
A: My big brother wouldn't let me in the house and we wrestled over the front door and my arm went through the glass. I was in fifth grade and they had just taken away the lead in the school play from me because I had had it the year before. So unfair. A wretched day.

Q: Have you ever been to or heard of Prince Edward Island in Canada?
A: No and yes in that order.

Q: How tall are you?
A: Five nine and three quarters inches.

Q: Do you have an Ipod or Iphone?
A: iPhone and I wish I knew how to make the buttons stop doing things.

Q: Do you do the Dance of Joy about real-life good things that happen? Or did you during the years you were playing Balki?
A: When my generator first was hooked up and worked, I did the Dance of Joy in the snow for the workers, as promised.

Q: You're well-known as a Wizard of Oz fan: have you read the book Wicked, or seen the musical?
A: No. I politely and discreetly avoid any Oz material not by L. Frank Baum.

Q: Do you know if there is an equivalent of bronsonpinchot.org for Mark Linn-Baker?
A: No idea. It would not be very like him.
Here is the latest batch of fan-submitted questions Bronson has answered for us! Enjoy and send your questions for the next one!

Q&A's 09/04/11

Q: We know that you enjoy renovating old houses. Do you also enjoy gardening? If so, what are some of your favorite plants?
A: No, but I enjoy supervising gardening. And I love being in gardens. I like willows and cypresses and hemlocks and umbrella pines. And lilacs and gardenias and peonies and climbing roses…and ivies…and clover….and wisteria…

Q: First of all I want to say, that you are a great actor. I have yet to see the rest of your work but among my favorites is Perfect Strangers and The Langoliers. My question is, did you ever see Nostalgia Critic's review of Langoliers and if so what did you think?
A: I didn't. Was it mean? I don't like reviews when they make me sad.

Q: Bronson, recently I have been watching the earlier episodes of Perfect Strangers after having watched the later seasons and I noticed how much Balki's English had improved over the years. Is this something you would change each season, or how exactly would you go about thinning out his accent?
A: I never thought about it one bit, it was organic. For a while I had a Russian trainer, and I thought he had a bit of influence on the accent which I did not put in there on purpose.

Q: What was your first impression of Mark like?
A: His hands were shaking and he had a giant plastered-on smile. That's what I remember of Minute One.

Q: What made you decide to switch to drama from painting when you were at Yale?
A: I'd always secretly wanted to do it.

Q: What kind of deoderant do you use?
A: I forget…it's in the bathroom. No, wait a second, I stopped using it. No one has ever complained, but many people say I have a nice smell. They could be lying.

Q: What's your dream acting job?
A: Um, at this point, anything with lines.

Q: What inspires you?
A: Acts of compassion.

Q: The desert island question: if you were stranded in a desert island, what three things would you take with you?
A: The Odyssey, baby wipes, and an 18th century Greek mountain house.

Q: Are there any personality traits you wish you could change on yourself?
A: I tickle my Mom's ears and pinch her butt (fairly lightly) though she begs me not to, but she is laughing when she begs. I am too fond of bread pudding with custard and chocolate chunks in it. And I wear the same jeans too often.

Q: Do you have a motto?
A: Connect.

Q: What does your dream home look like?
A: Any of Palladio's masterpieces will do.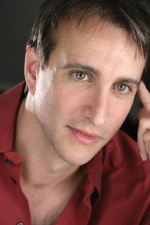 The Publisher's Weekly audiobook blog Listen Up! had a fantastic Q&A session with Bronson, which you can read at:
http://blogs.publishersweekly.com/blogs/ListenUp/?p=871
Some very exciting news about Bronson's current projects, check it out! 🙂
After a very busy month for Bronson, he has graciously (as always) replied to the latest questions sent by our visitors!

Q&A's 07/06/11

Q: How, if at all, is the real Bronson anything like Balki? (I think I remember reading in one of the early PS articles that you said you are like him.)
A: Well, his playfulness is mine, and his optimism, and his rubber-legged physicality, and his vulnerability, and his instinct that everyone should be hugged. His speech and dietary patterns are his own.

Q: Are there any charities or charitable causes particularly of interest to you?
A: Poor single mothers trying their best. I feel a bit leery about organized charity.

Q: Will you ever guest star on Glee? I want to see you play Rachel's dad!
A: Never seen it. Who's Rachel?

Q: Bronson, did the producers of Two and a Half Men ask you to eplace Charlie Sheen?
A: Lord, no. I'm not on anybody's radar, more's the pity.

Q: Have you ever been to New Zealand?
A: Only in my dreams.
Q: If not, would you like to visit NZ one day?
A: Yes, if I can be knocked out for the entire trip over and wake up to a brilliant lamb supper.

Q: It seems to me at times that Balki is almost supernatural, or "super." He can be totally benevolent to people who are trying to hurt him. He has a gift for making other people do the right thing. He has all sorts of artistic talent AND athletic ability. And some of his Myposian solutions to problems really do seem like magic: the lost pet chant, the cure for the horse's disease. Would you agree with this interpretation?
A: Yes, absolutely. He was and is the person I would like to be.

Q: What do you like best of living in Pennsylvania?
A: The stars are like diamonds, the grass smells good when it's cut, it's very lush, and my home is here.

Q: I have copies of books in the Wizard of OZ series of books. If a person wanted to know what edition their book was and it was not marked but seemed to be very old what would you suggest, being that you are interested in books and the Wizard of OZ franchise? My copy of Tin Woodman of OZ has me confused in that area.
A: It is easy to do it by publisher for the first thirteen. If the Wonderful Wizard of Oz is published by George Hill, it is a first edition. If the next twelve, including Tin Woodman, are published by Reilly & Britton, they are first editions, or very early editions. In 1919 the publisher changed its name to Reilly & Lee and from that point on, you must consult a collector's guide.

Q: What is the ultimate question?
A: Why, if given this capacity for love and kindness, do human beings act any other way to each other and to any other creatures.

Q: How long have you been rehabilitating old houses and what first got you interested in doing so?
A: Ten years. Seeing one and wanting to love it and take care of it.

If you have any questions you would like Bronson to answer in the next Q&A, send it to contact@bronsonpinchot.org! 🙂
This is the latest batch of questions Bronson kindly answered for us!

Q&A's 05/04/11

Q: What kind of car do you have?
A: I think it's a Ford.

Q: How do you like PA?
A: One year I spent $11,000 removing garbage that had been dumped in the woods visible from the main street over many years…old car bodies and the like. When it was pristinely beautiful, I was standing there admiring it and somebody said to me, "I really miss the way it was." I'm not quite sure what thought process is going on there.

Q: What do you do in your spare time, if you have any?
A: I write. And I sketch what I'm going to do architecturally.

Q: What do you think of our president?
A: I think he's doing his best, which is all any of us can ever do.

Q: Where do you like to eat?
A: At my mother's kitchen table.

Q: Have you ever been to Las Vegas?
A: Yes. It spooks me.

Q: What do you usually do for holidays?
A: Visit with my siblings and mother and have a great time.

Q: What are your favorite, and least favorite, types of bread?
A: Raisin cinnamon and the kind that's got so many grains and flax things in it that it tastes like a bog. When I was at Yale they used to make bread stuffed with broccoli, garlic and cheese and it rocked my mind.

Q: Is your favourite movie still The Wizard of Oz? A: Yes. But I'm not sure it can really be classified as a 'movie' any more. It's the childhood of my entire generation.
Q: If not, what is it?
A: I'm not sure.

Q: Do you have a favourite song?
A: Yes, but it changes.

Q: If you were not an actor, what would you like to be?
A: Andrea Palladio.


If you have any questions you would like Bronson to answer in the next Q&A, send it to contact@bronsonpinchot.org! 🙂
We have wonderful news to all of you who would love to have a question answered by Bronson!
The Q&As are back and Bronson already answered a big batch of questions sent by visitors of the site over the past year!
If you are one of those, check below to see if your question was answered!

Q&As with Bronson – 04/17/11

Q: What was the best advice received that has helped you cope with the resounding success of a hit show?
A: I did a music video with the Pointer Sisters five minutes before Beverly Hills Cop came out and made me pretty famous. They sat me down in their trailer and said, "Just be yourself." They were awesome…unfortunately, I didn't then know who 'myself' was, but I did my best to find out.

Q: Has your outlook on the changed/evolved over the years?
A:Well, I've always hated it. Now I laugh at it, and get queasy if I look too close. Gaga? Sheen? Snooki? Bucket, please.

Q: What TV shows would you like to appear in?
A: I haven't had a TV in years. No idea what's on.

Q: What is your favorite show on TV today?
A: Turner Classic Movies.

Q: Do you agree that TV is not as good as it used to be?
A: I never watched it then, either.

Q: Do you still have the Myposian tuxedo and Dimitri, the stuffed sheep doll?
A: I have most of the clothes…not sure if I have the tuxedo. Not sure where Dimitri is.

Q: What kind of cellphone do you have?
A: I forget, but it's not cool.

Q: Do you ever play video games?
A: Never have played one ever.

Q: Do you have any pets?
A: No, but I hanker after everyone's dogs. Love 'em.

Q: Do you ever shop at Walmart?
A: Yes.

Q: What's your favorite store?
A: Wherever 18th & early 19th c. painted antiques are sold, if no one has ever tried to improve them in the least.

Q: How did you like the book Courting Disaster? I'm reading it now!
A: It scared me and made me mad. I became a foaming-at-the-mouth arch-conservative for a week. My sister was thrilled.

Q: How many languages do you speak?
A: English, Myposian, and the one that's in my book, which is a secret.


If you would like Bronson to answer your question next, please send it to contact@bronsonpinchot.org and it just might be on the next Q&A! 🙂