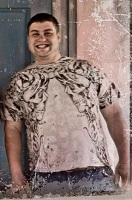 All the fans of The Bronson Pinchot Project are more than familiar with Mikey "The Panda" Papusha's sweet nature and charisma.
Unfortunately, Bronson has just informed us that Mikey's father has passed away suddenly at the age of 52, leaving the family in financial difficulties, as he did not have life insurance.
Mikey has reached out to all the fans who are able to help in this time of need with donations, which can be done via PayPal. Any amount is welcome and will be instrumental in covering funeral expenses and other immediate needs.
Read Bronson's post in our Facebook page.
---
Donate to help Mikey