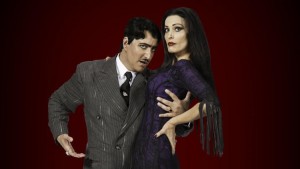 Happy Fall everyone!  If you're around Los Angeles anytime in the next month, be sure to check out BP in 3D Theatricals presentation of The Addams Family!
You're invited to Gomez and Morticia Addams' annual family gathering, where you'll rub elbows with the macabre and morbid, the cadaverous and crazy. RSVP to see what happens when daughter Wednesday brings a "normal" boy and his stuffy parents to the party…..This original story is based upon The Addams Family characters created by Chas Addams for his hilarious single-paneled "gag" cartoons.
Bronson will be playing Gomez Addams!  He will be performing at the historic Plummer Auditorium in Fullerton October 10th-25th and at the Redondo Beach Performing Arts Center October 31st-November 8th.  Get tickets and info here — and let us know if you're going to the show! 🙂
Also, check out BP on Showtime in Ray Donovan as uh, "kinky" weatherman Flip Brightman..heh heh.. Get info here!