Although our little Christmas contest didn't have many participants (you were all Christmas shopping, I understand! 😉 ), we did have some lovely entries from some really lovely fans! I would like to thank you and all the fans and visitors our site had in this, its first year of existence. Be ready for a new year with new content! 😉
Now, the chosen entry and the winner of the "Chapters of My Audiobiography" audiobook is … *drumroll* ALYCE JENIFFER! And here's her lovely entry: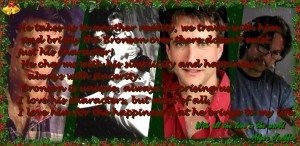 Congratulations Alyce, I'm sure you will love your prize! 🙂
Check back in a couple of hours for the Christmas Video!