The Mega Merry Christmas Post!
A few of Bronson's awesome fans sent us some great Xmas messages to share with you all in this special day!
From Kristen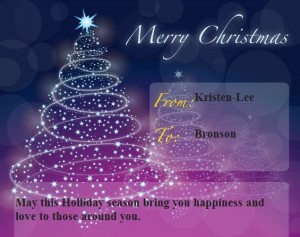 From Megan
Happy holidays to Bronson and all his fans! I hope everyone has a safe and fun time. Here's to 2012! (Yeah, I know, it probably won't be any better, but you never know). At least we have Bronson's new show and yet another disappointing apocalypse to look forward to. Love,Megan
From Whitney
Nothing fancy but I want to say Merry, Merry Christmas to one of the best person and actor there is and have a wonderful and prosperous New Year!!!!

And good luck with the show. We are patiently waiting and to welcome you with open arms back into our homes again.

Your fan & friend,Whitney S.
From Alyce Jeniffer
"And so I'm offering this simple phrase, To kids from one to ninety-two, Although its been said many times, many ways, Merry Christmas to you ". All your wishes will come true and 2012 will be a beautiful and amazing year! All the best!
From Sylvia
Merry Christmas Bronson All the best in 2012! Can't wait to see your new show!
From Brenda
Merry Christmas and Happy New Year to Bronson and all fellow fans! Love, Brenda Lee Marsh, New Kensington, PA
I'd like to wish A BIG, SUPER, MEGA, HYPER, AWESOME Christmas to all of you, to Bronson and to everyone who has supported this site in these last two years! Thank you and keep watching this space, 2012 brings many very exciting things!