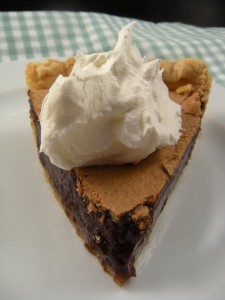 Read Bronson's rhapsody on pie.
I first heard of chocolate pie on an episode of I LOVE LUCY in which Lucy declared her intention of making it to win the favor of new neighbor Talullah Bankhead, on account of Tallulah's southern roots.

I imagined it would be…no, actually, I couldn't imagine it. I had a strong hunch it wasn't like chocolate cream pie, because pudding in a pie crust is too tame for the South.

So I began to hanker for it.

I also wondered what made it so "Southern".

The most Southern thing about chocolate pie turns out to be this: I mentioned my longing for it to my hostess, Beth Yarbrough, in hour 5 of the 10 hour drive to her house…and by the time I arrived, there it was, waiting for me.

The second most Southern thing about it was its taste, which I would describe with five words: Instant Gratification on a Plate.

The dish must originally have been authored by the doting mother or sister of a 14 year old boy, or by the 14 year old boy himself. Unprepossessing, unapologetic, unforgettable and most of all – and this is why I think a 14 year old boy must have originated it – utterly defiant: WHY SHOULDN'T THERE BE A PIE THAT TASTES LIKE THIS?

Like clotted cream, cognac, homemade orange marmalade with plenty of rind, the dough of cookies that will never see the inside of an oven, blinis on the Baltic, fresh warm meringue, and just-baked sourdough with lashings of butter, chocolate pie has the power to make you think you are a dog eating people food.

It's effect on the tongue, belly, and mind is that of simultaneously falling in love and being tasered.

Beth tells me I ate most of an entire pie, but I question this.

Then again, I was in a coma for three days after eating it, and have no clear recollection of anything whatsoever.