Here we are again, 2013 flew right by, didn't it?
Our Christmas tradition continues here on BP Online, with our mega post made of special greetings sent by fans.
And here they are:
From Lois:

---
From Tanya:
Dear Bronson Pinchot: I just want to say I hope u have a very Merry Christmas & a happy, healthy & prosperous New year! I tape & watch your show on the D.I.Y. Network. I absolutely adore you & your many workers on the show. You are funny but also enlightening in the way u teach us all the proper terminology that's used in architecture & design. I must say I do love the interaction between u & Mikey. My son's name is Mike. He has seen your show & likes it too, but not as much as I do!
So please, Mr. Bronson, have a special holiday season. Take care & I picture u in your little elf house, in a onesie, reading Dickens & having a brandy to stay warm, just like me! Tee-hee! Peace & Love,
Tanya Jenkins 😉
---
From Missy: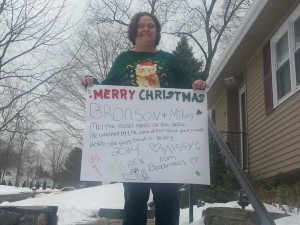 ---
From Sel: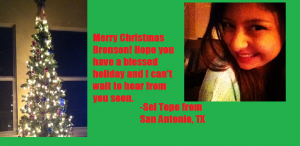 ---
From Kristen-Lee:

I haven't been able to prepare anything special this year, but to all of you out there who helped keep BP Online alive for 4 years, my most sincere THANK YOU!
Have a lovely Christmas and a very special New Year, everybody!
Hello all! That especial time of year is here again and it's not only BP Online's 4th anniversary, it's Christmas as well! 🙂
As we've done for the last couple of years, there will be a super mega Christmas post published on the 24th with greetings sent by you! If you'd like to send in your Christmas greeting, send it to contact@bronsonpinchot.org and it will be part of our mega Xmas post!
Text, pictures, drawings, poems, videos, it's all allowed.
See you on the 24th!
Yes, it is Christmas time again, and we here at BP Online always have a little special something for and from the fans.
Below are the creations and Christmas wishes of a few awesome Bronson fans to cheer up the Holidays!

From Elatia (click to view full size):


From Whitney:


From Missy:

From Rachel (be warned, this is funny!)
http://www.youtube.com/watch?v=s0lIduMzG5w

From Kristen:
Christmas is for love,
friends and family

Christmas is for peace,
joy and happiness

Christmas is for having fun,
laughing and talking

Christmas is for everyone,
the rich and the poor

That's what christmas means to me,
the presents don't mean a thing
unless you made it
or it comes from the heart

couse the best gift of all
doesn't glitter and sparkle,
it' not wrapped in ribbons or paper,
it doesn't cost a thing

the best gift of all
doesn't come from the store
its time spent
with you and me

Love always,
Kristen-Lee Corrigan

From Richi (click to view full size):

From yours truly, Lucy:
Merry Christmas, Bronson, Merry Christmas everyone! See you next year!
Oh yeah, and thanks for three years of BP Online! 🙂
On this May 20th, Bronson is celebrating his 53rd birthday! As a token of our appreciation, several fans at the Bronson Pinchot Online FB Page and myself decided to continue the birthday video tradition and create something special for Bronson on this special day!
Happy Birthday, B, this one is for you:
Thanks everyone who participated in the video/slideshow, you rock! 🙂
A few of Bronson's awesome fans sent us some great Xmas messages to share with you all in this special day!
From Kristen: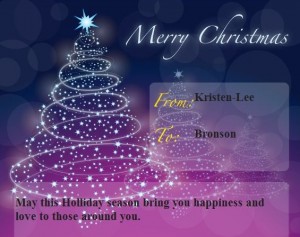 From Megan:
Happy holidays to Bronson and all his fans! I hope everyone has a safe and fun time. Here's to 2012! (Yeah, I know, it probably won't be any better, but you never know). At least we have Bronson's new show and yet another disappointing apocalypse to look forward to.
Love,
Megan
From Whitney:
Nothing fancy but I want to say Merry, Merry Christmas to one of the best person and actor there is and have a wonderful and prosperous New Year!!!!

And good luck with the show. We are patiently waiting and to welcome you with open arms back into our homes again.

Your fan & friend,
Whitney S. 🙂
From Alyce Jeniffer:
"And so I'm offering this simple phrase, To kids from one to ninety-two, Although its been said many times, many ways, Merry Christmas to you "
All your wishes will come true and 2012 will be a beautiful and amazing year! All the best!
From Sylvia:
Merry Christmas Bronson All the best in 2012! Can't wait to see your new show!
From Brenda:
Merry Christmas and Happy New Year to Bronson and all fellow fans!
Love,
Brenda Lee Marsh
New Kensington, PA
I'd like to wish A BIG, SUPER, MEGA, HYPER, AWESOME Christmas to all of you, to Bronson and to everyone who has supported this site in these last two years! Thank you and keep watching this space, 2012 brings many very exciting things! 🙂
With the help of some really great Bronson fans, and on behalf of all Bronson fans, this is our little birthday gift to you, B.
PS: A big thanks to Silverfang, Alyce, Katalin, Whitney, Brenda and Stephanie for their lovely contribution to this video.